8 Tricked Out Food Trucks
Looking for some inspiration for your cool new food truck? You've got some pretty creative competition no matter where you go. Here are eight of the most tricked out, souped up, groovy food trucks around. Maybe these foodie masters on wheels can inspire you to make your truck extra awesome.
1. Luckdish Japanese Curry Food Truck
Image via Flickr by swanksalot
Adorned with conversation pieces and stocked with yummy authentic curry, the Los Angeles based Luckdish offers a variety of dishes to please the palette. Some of their concoctions taste like curry on the streets of Bombay, while others feature a Mexican twist on curry dishes, served up with avocado, cilantro, and burritos. Helpings are generous, prices are affordable, and the food truck that looks like a silver bullet is a hip looking place to chow down. Best of all, you can choose how hot and spicy you prefer your curry on a scale of one to five. Most patrons preferred a heat factor of three.
2. Hodge Podge
Image via Flickr by Edsel L
Most food trucks are spun off existing restaurants, but the Hodge Podge is such an awesome food truck, it spun a restaurant. It's not Chris Hodges' first food truck adventure, but this Cleveland, Ohio food truck is the one that garnered him, his sister, and his girlfriend national attention, coming in at number 87 of The Daily Meal's top 100 food trucks and coming in second place in The Great Food Truck Race sponsored by the Food Network. It was also featured on the Cooking Channel's show Unique Eats, highlighting their enormous juicy hamburgers and awesome tater tots. Dim and Dem Sum was the first of Chris' successful food truck creations. Hodge's restaurant in Cleveland, inspired by the food truck, is Chris' latest endeavor with chef Scott Kuhn.
3. Jack's Chow Hound
Image via Flickr by BetterBizIdeas
Texans love their brisket, and Jack's ChowHound food truck brings it to them at work and while they play. You've probably never tasted grilled cheese sandwiches like Jack cooks up, featuring mounds of perfectly smoked Texas brisket or heaps of pulled pork with smoked gouda. Jack's also offers veggie burgers and BLTs on the lighter side of the menu. The ChowHound spends most of the time in our near the Dallas area. The good-looking truck gets good ratings from Yelp reviewers, especially for their meaty grilled cheese sandwich concoctions.
4. Fries and Dolls
Image via Flickr by Calgary Reviews
Chicks dig the pretty pink truck, and dudes dig the pretty ladies serving up the food, but everyone digs the heaping helpings of fries dished up by Fries & Dolls. This truck services the Calgary area of Alberta, Canada, including gourmet fry selections like the Farrah, which comes globbed in garlic, parsley, and grated parmesan. They even have a gluten-free gourmet French fry menu, and of course, sweet potato french fries. These ladies are serious about food, and even more serious about having fun while serving it. Locals beg for their appearances, which include a number of charitable events.
5. Divan's
Image via Flickr by Bob B. Brown
Divan's is bringing the European gourmet coffee and bakery concept to Miami in a miniature form. Converted from a truck into a food kiosk, this food truck serves up breakfast, lunch, and dinner. They offer everything from light salads and snacks to hearty sandwiches and bakery items. Divan's also serves hot and cold beverages, including espresso. Divan's prepares and packages all the foods at their home base by specially trained food workers, and kept fresh on the adorable kiosk truck for their patrons' pleasure. It's hard to imagine how they get so many delicious offerings in such a tiny truck.
6. Big Moe the King of Ribs
Image via Flickr by SoWa Sundays
Big Moe's real name is Maurice, and he's renown in the Boston area for serving up the perfectly tender spare ribs in his famous special sauce. With a motto like, "Eat Well. Stay Fit. Die Anyway," you aren't surprised to find sinful chicken, pork, and sandwiches alongside gooey macaroni and cheese, collard greens, brisket, potato salad, pulled pork, and peach cobbler. Aside from the cool looking truck and the scrumptious food, one of Big Moe's biggest draws is the friendly, down-home service. Another draw is his wide selection of side dishes and über tender grilled and smoked meats.
7. Game of Thrones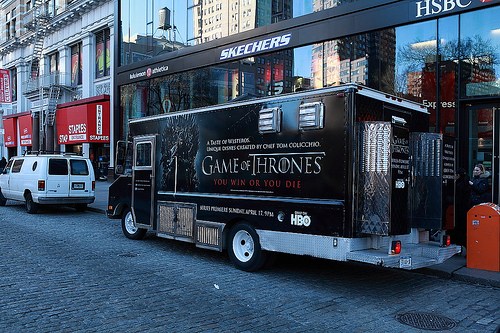 Image via Flickr by CampfireNYC2011
Dishing up the elaborate feasts celebrated on the hit HBO series Game of Thrones from this beautifully tricked out New York City food truck, this food is even more special because it's free. The truck features dishes from the fictional regions of the series, including the Realm of Westros, King's Landing, Riverlands, The Wall, the Free City of Pentos, and Winterfell. Many of the culinary creations are actual feast dishes featured in the most popular episodes. The truck amazes patrons with how quickly they serve large crowds, working through huge lines of New Yorkers in just minutes. It's one of the few things worth braving cold NYC winter days for.
8. Pho Junikes
Image via Flickr by majunznk
Usually, when you see a gimmick like this, it's masking horrible food. Not so with Pho Junkies, who serve up great pho (Vietnamese noodle soup) with a super attitude from a totally cool food truck. This Washington, D.C. truck is a rolling piece of art, decked out in a zombie apocalypse theme declaring "Better than Brains," and "Noodles do not zombify." We think this means the noodles don't get soggy, and they reportedly do not.
You can get your pho with all the meat (steak, brisket, flank, tendon, tripe, and meatballs), chicken, or three meats of your choice. Pho Junkies serve vegetables in the soup (a steaming beef broth with basil, bean sprouts, lime, jalapeno, white onion, green onion, and cilantro), with a side of hoisin and sriracha and a pair of chopsticks. Yelp reviews for Pho Junkies are consistently excellent.
Are you inspired by these tricked out trucks? Think you can rival their creative cuisine? There's only one way to know — purchase a truck from Russell Concession & Mobile Kitchens, and start your creative juices flowing.